The Problem
The Materials Innovation and Recycling Authority (MIRA) was experiencing persistent problems with the bearings in their industrial fans which are responsible for supplying air to its waste-to-energy steam boilers. Because of the exposure to dirt, rain, inconsistent temperatures and other harsh weather conditions, standard labyrinth and bearing isolator type shaft seals were failing on an average of every 8 to 10 months.
When the integrity of a non-contact seal is compromised, the bearings are known to fail. Not only can this delay or completely disable system processes, a forced outage can be a significant financial setback. Replacing just two bearings can cost over $15,000.
Centritec Seals Results
MIRA elected to install the Centritec vertical shaft seal technology on one of its industrial fans. The Centritec Seals allowed for flexibility in axial alignment, with a design that kept lubrication in and contaminants out. After more than a year: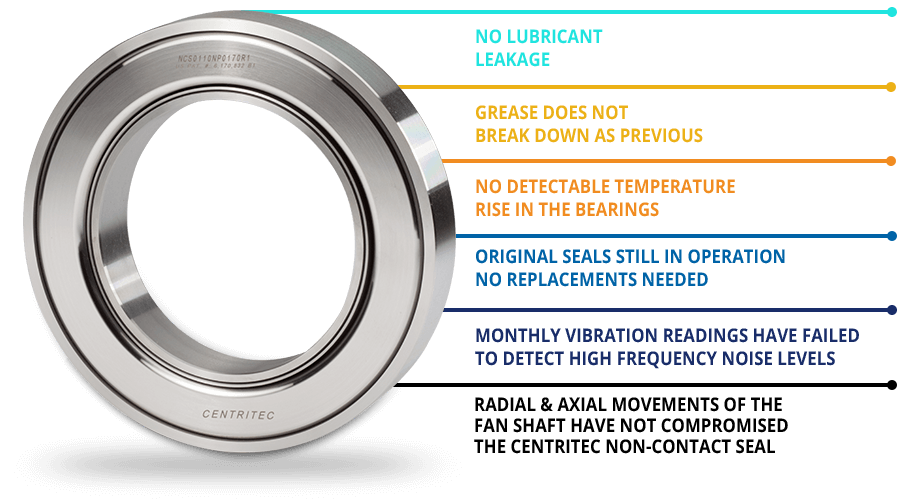 PROVEN PERFORMANCE:
NON-CONTACT SEALS FOR THE TOUGHEST APPLICATIONS
The MIRA installation presented many of the challenges customers commonly bring to Centritec Seals – including temperature extremes, dirty conditions and high-vibration environments. Our patented non-contact seal design has proven effective, providing reliable operation and surpassing other sealing options.
Contact Centritec Seals for more information on centrifugal non-contact seals, or to request a quote for your application.