Centritec Seals Are Engineered for Flexibility and Durability
Centritec Non-Contact Seals are extremely efficient components and operate with minimal parasitic drag.
In addition, the rotating chamber sealing method significantly reduces operational speed requirements, compared to typical non-contact seals, and allows the use of extremely low viscosity fluids, even as low as water.
Carlyle Johnson's experienced engineers can custom-design a Centritec non-contact seal to your exact needs, contact us for more information.
Features of Centritec Non-Contact Seals
CJM's Centritec Non-Contact Seal centrifugal sealing function offers an extremely flexible solution for a variety of lubrication methods. The seal can separate (or seal) two fluid mediums from each other, such as oil and water. The unit is also capable of pumping lubrication from the seal to the bearings, while operating in oil or grease.
The Centritec centrifugal pressure seal also solves the alignment issues associated with other labyrinth seals, by actually pumping fluids to create a pressure differential between the environment and the controlled fluid cavity. This advantage is not available in either the standard contact lip type seal or the labyrinth seals, and allows for some flexibility in axial alignment.
To learn more about our non-contact seal applications, visit our Engineering a Better Non-Contact Seal page.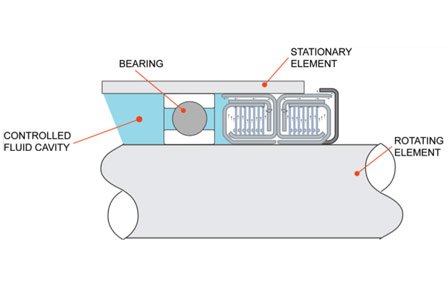 Customization
Centritec Seals offers a wide range of custom designed solutions to meet specific requirements. Our engineers can assist you in development the most cost-effective and robust solutions to overcome your hosing assembly challenges.
Adapt to many applications – typical and atypical
Fit an existing application
Order specific pumping capabilities, size and material types
Account for additional motion, vibration or extreme environmental conditions
Applications
Many sealing solutions do not effectively meet the needs of applications with constant motion. From extreme temperature conditions to harsh environmental elements – such as snow, rain and dirt – Centritec Seals delivers reliability in a variety of applications including:
Turbines
Rolling mills
Railroad cars and locomotives
Off-road construction vehicles
Wind power generation
Contact Centritec Seals for more information on our centrifugal seal manufacturer services, or to request a quote for your application.